Decks, porches and Patios are living spaces too!
Our decks and porches are often the last areas to get proper maintenance. We often take these outdoor areas for granted and don't notice the gradual effects of Mother Nature. The deteriorating factors they may encounter vary from sunlight fading to dirt buildup or even slippery and dangerous mold, mildew and algae. Wood is also subject to breakdown from freeze/thaw cycles from our winters.
What to do?
If you want to keep your deck, porch, patio or other areas looking great and provide years of outdoor service, we can help you with our restorative cleaning and weatherization processes. We start by assessing the areas and consider the options for both cleaning and protecting them. When we sit down to discuss our findings, we'll share with you the pros and cons of different cleaning and restoration activities, along with ways to protect the surfaces from the ill effects of Mother Nature. Your input will help us plan the right project for you.
Professional Wood Deck Restoration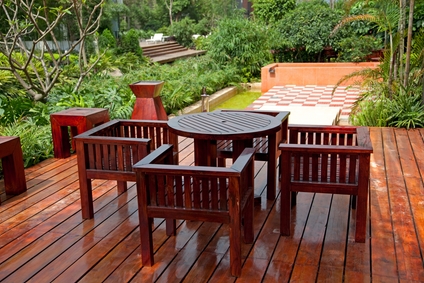 For wood surfaces such as decks and porches, gentle power washing with an appropriate cleaner and brightener may be just the thing. This process is effective without harming the wood surface. This is an important consideration that others often overlook. Let our experienced crew handle the details and you will have a beautiful looking deck or porch before you know it!
Patios, sidewalks and driveways
We can also transform the look of these areas with our cleaning processes. While we're at your home washing other areas, have us clean these places too. We are all about helping you to beautify all areas of the outside of your home.
If you are looking to pressure wash your wood deck in Bethesda please call 240-498-1803 or complete our online request form.